Founded in California, My Gym offers programs for Children ranging from 0 to 13 years old. Currently there are 300 locations throughout America and gyms in 30 countries across the world! Children at My Gym Japan are connected with friends from all over the world through participating in the same program. All classes are taught by English speaking "Players" (Instructors). Your children will enjoy moving their bodies, while developing their communication skills as well!

My Gym is an English-based Fitness Center, utilizing programs based in child psychology, physiology and sociology. The layout of the gym changes every week for children to experience a new and exciting environment!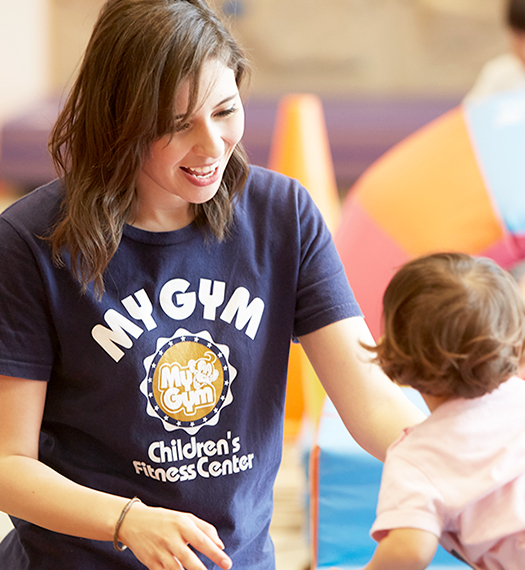 My Gym does not only focus on physical skills.
When the body and mind are competing with each other, moving the body leads to trying new things and building confidence. "I can do things now, which I couldn't do it before!" This experience is essential to the growth of a child's mind. The class is conducted in English as well. We are not teaching the children to "learn" vocabulary or the pronunciation, but by speaking to an English Speaker, the child builds more confidence and can easily apply it to their life.
For example, not every Japanese person playing an active role in the world can speak fluent English. They can deal with everyday situations even with simple English and a Japanese accent, because they are not stressed when they talk to foreigners. Developing this mentality is the first step to becoming a global person.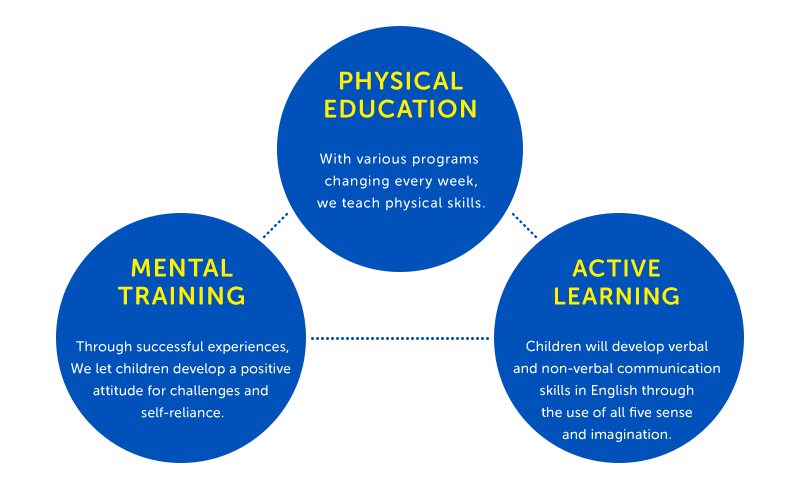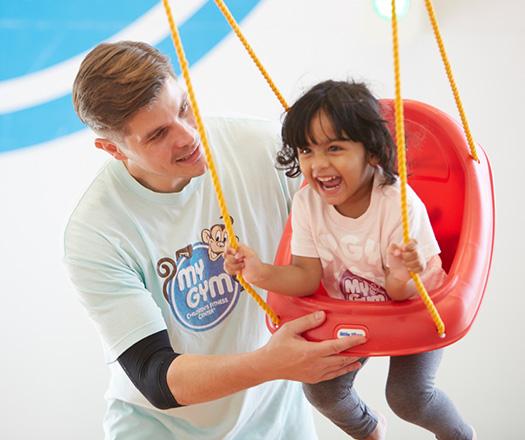 My Gym Program

In the U.S., where fitness is highly important, My Gym is regarded as the No.1 program for children. From 0 to 13 years old, we set up classes for each age group based on children's growth, safety and communication skills. We support their growth in each age group and sometimes children in our program show remarkable progress. With all this, you can expect more from our educational system.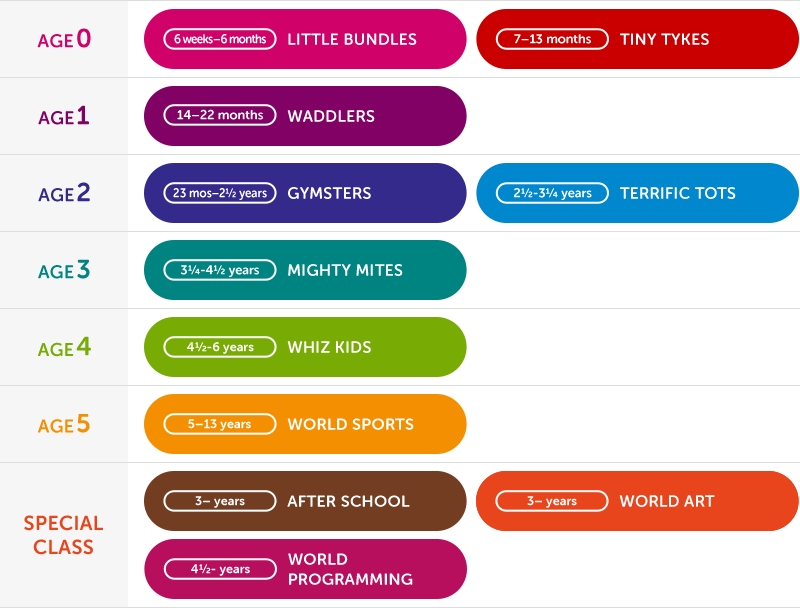 Jungle Time

Along with your regular classes at My Gym, we have a free play time called Jungle Time. It is designed to draw out the potential talents of the children. Choosing from various playground equipment's by themselves and thinking about how to play, greatly increases the creativity of children. All special classes have free play time.
For instance, in on elementary school entrance exams, sometimes they test the children's ability with a complicated dance. There are two types of children; one that can manage to deal with it and the others can not. Essentially, the former one doesn't do the exact thing they saw, but they try to do it even if they are not perfect. These "challenging attitudes" and "challenging mentalities" are very important factors for their future life style and work.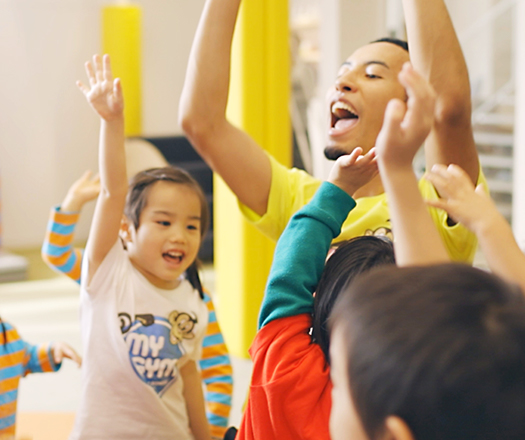 Is it okay if we can not speak English?
We get many inquiries asking this, but do not worry! English is only a communication tool. Neither grammar nor pronounciation is important, but to be familiar with the language itself and not be self-conscious about it is. Children look up to their parents and follow their lead. If the children sees their parents communicating with foreigners on a daily basis, the mind of a child will naturally build to participate in the international community.
Smiles are made out of feeling secure and safe.
We prioritize safety so we thoroughly check our equipment for safety hazards as well as go through the program. With the help and support of the Players, we make sure that the children build their adventurous and challenging spirits! We also sterilize and disnfect our equipment every day.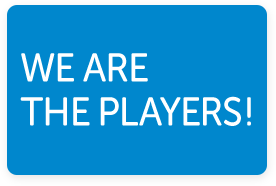 We "players" play with the children on the same level,
so we call ourselves "players" and not "teachers".
Only the players who meet the criteria and have certifications can take charge of a class. Since our establishment, we have been training the players with our unique program that has been constantly improving. These includes how to bring out children's physical potential, aquire a supportive attitude, providing security and encouraging the children to have successful experiences.
The players come together from all over the world to share their cultures and background. And is a great opportunity for the children to learn them as well! Of course, they are really good at entertaining and fascinating children, so both parents and children always enjoy the class.
Name: Aaron
Country: England

Career

Life guard and swimming coach in England

Speciality

Singing, Games

Interest

Camping, Photography

Character

Gentleman and is popular amongst the parents!

Name: Chris
Country: Hawaii

Career

Performed as a Performaer of Wadaiko in Hawaii

Speciality

Singing, Dancing, Gymnastics

Interest

Wadaiko, Dancing, Fighting sports

Character

Very easy going and cheerful, which is why he is a popular player!
Loves music and is a natural performer

Name: Carlos
Country: Panama

Career

Engineer in the US Navy

Speciality

Gaming, Gymnastics

Interest

Sports in general, PC, Video games

Character

Always cheerful and makes everybody around him happy. Everyone loves him!

Name: Sol
Country: Argentina

Career

I have 10 years of experience in theater dance and ballet.

Speciality

My specialty is teaching dance to kids and teens, from 3 years old to 15.

Interest

I love musicals, books and movies.

Character

Her name is "Sol" which means "Sun" in Spanish.
She is always as bright as the sun and as energetic as the name suggests.
Sol is always positive and makes everyone around her happy!